Topicbox — the Slack for email
Topicbox brings the best of Slack collaboration to email, the more substantive, thoughtful platform your team is already using.
---
Chats are, by design, quick and incomplete, while email is whole. Slack works to increase collaboration through chat, but there are a few pain points. It explodes with topics that don't fully develop, becomes addictive, and loses relevance for people not online at that moment. Furthermore, it's disorganized and difficult to search.
Topicbox knows your teams' best work is put into email. As a centralized place for sharing and archiving emails, it helps your team get the most out of it. Your team gets control over what they need to see and how they work together. It's inclusive of people across various shifts and timezones, and it's always easy to find what you need.
Let's explore more benefits of using Topicbox, and how they compare to, or compliment, your team's work in Slack.
Increase your team's collaboration and productivity
Topicbox can help strengthen the use of Slack by providing a spot for shared messages that are better suited as emails.
Example: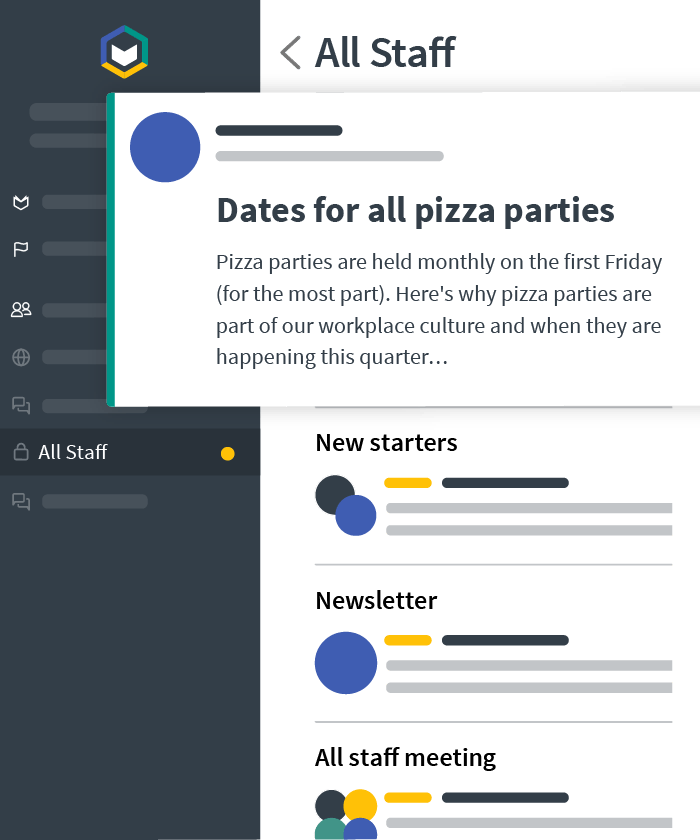 Perfect for email.
Email subject: Dates and speakers for all upcoming pizza parties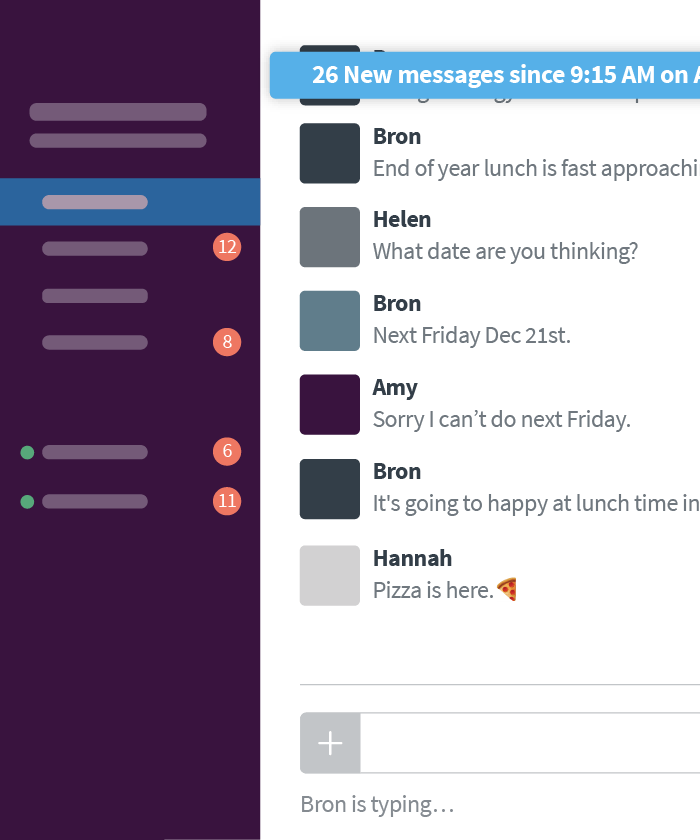 Perfect for chat.
Chat message: Pizza is here! 🍕
Unlike Slack, you don't need to have Topicbox open all the time. It works in the background with your email and is there when you need it.
Better track of decisions made
Topicbox puts topics first so it's easy to follow the conversation and see where it landed. Anyone can gain full context by reading up on topics, and all voices are included, even outside vendors.
Topicbox groups are similar to Slack channels and can be created for all areas of your work. Within groups, topics headline how information get sorted and stored.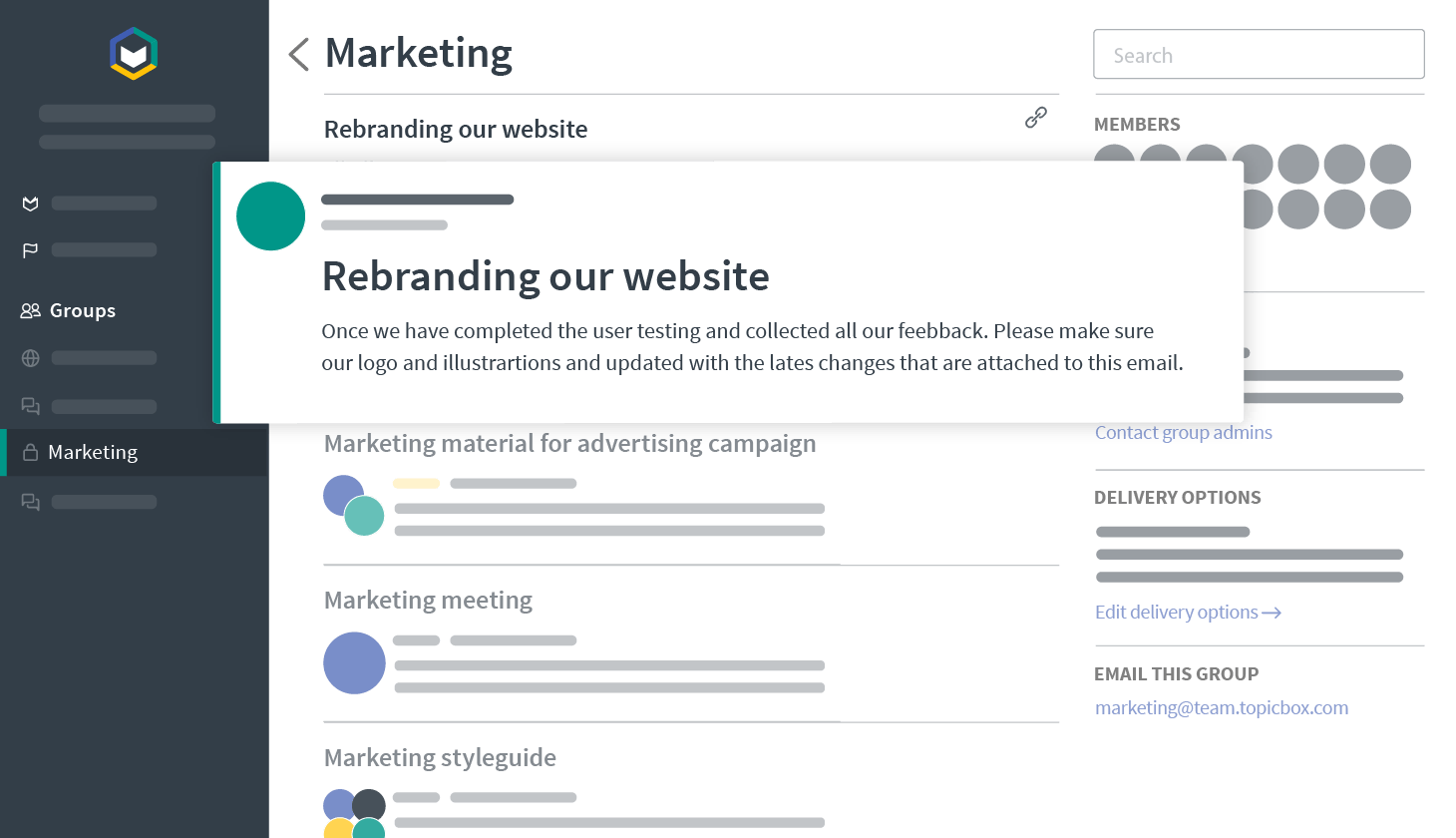 In Slack, there are no sub-categories or topic equivalent for channels. Slack threads don't clearly state the topic, disappear quickly, and can be hard to access. It's almost impossible to know if the all the right people saw or approved decisions made on Slack.
More focused work time
Slack captures the bustle of daily chatter in a busy office, but it does not help to create space for meaningful discussion. A constantly updating stream is exhausting to follow. It's easy to miss what matters and to leave out team members on different shifts, in different time zones, or taking a day off.
Topicbox conversations do not derail your day. It's designed to support your best work by putting you in control. It works on the same pace as email, so that you can respond the next time you are online.
No disruptive notifications
In reality, not everything requires our immediate attention. In fact, often the outcomes are better when there is space for consideration. Topicbox helps keep chats light, and emails thoughtful and resource-heavy.
Example: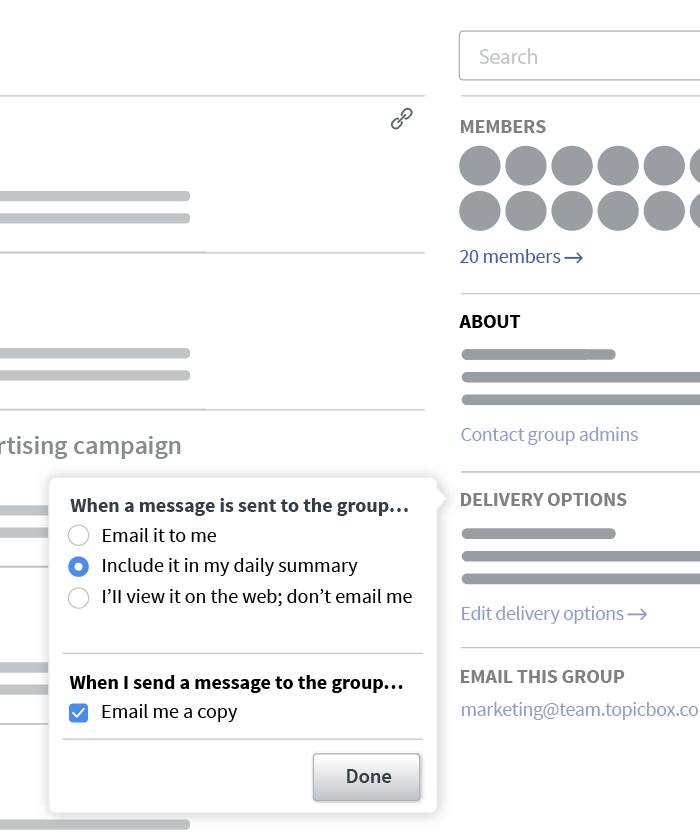 Slack = What's happening now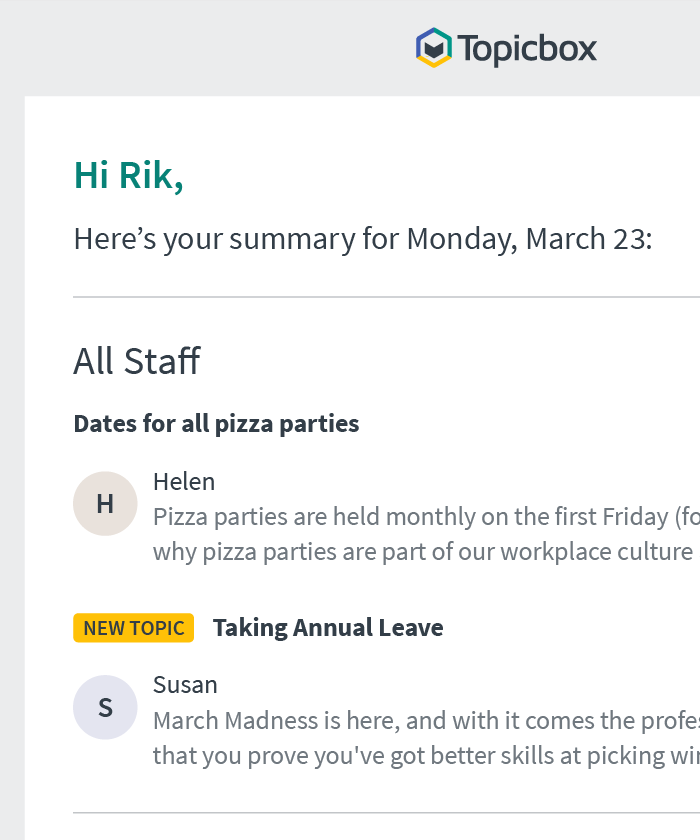 Topicbox = Share your thoughts or use this resource
You are in control over how you follow the groups you have access too. It's possible to get messages instantly in your inbox, or to recieve daily summaries for the groups you are simply tracking. Revise these settings at anytime, and turn on or off email notifications as you would normally.
Empowered teams get more done
Imagine trying to train a new person by handing them your Slack account. There is simply too much nonsense, and not enough context. But give a new team member access to your email archives in Topicbox, and they can read up on how their work has been accomplished in the past.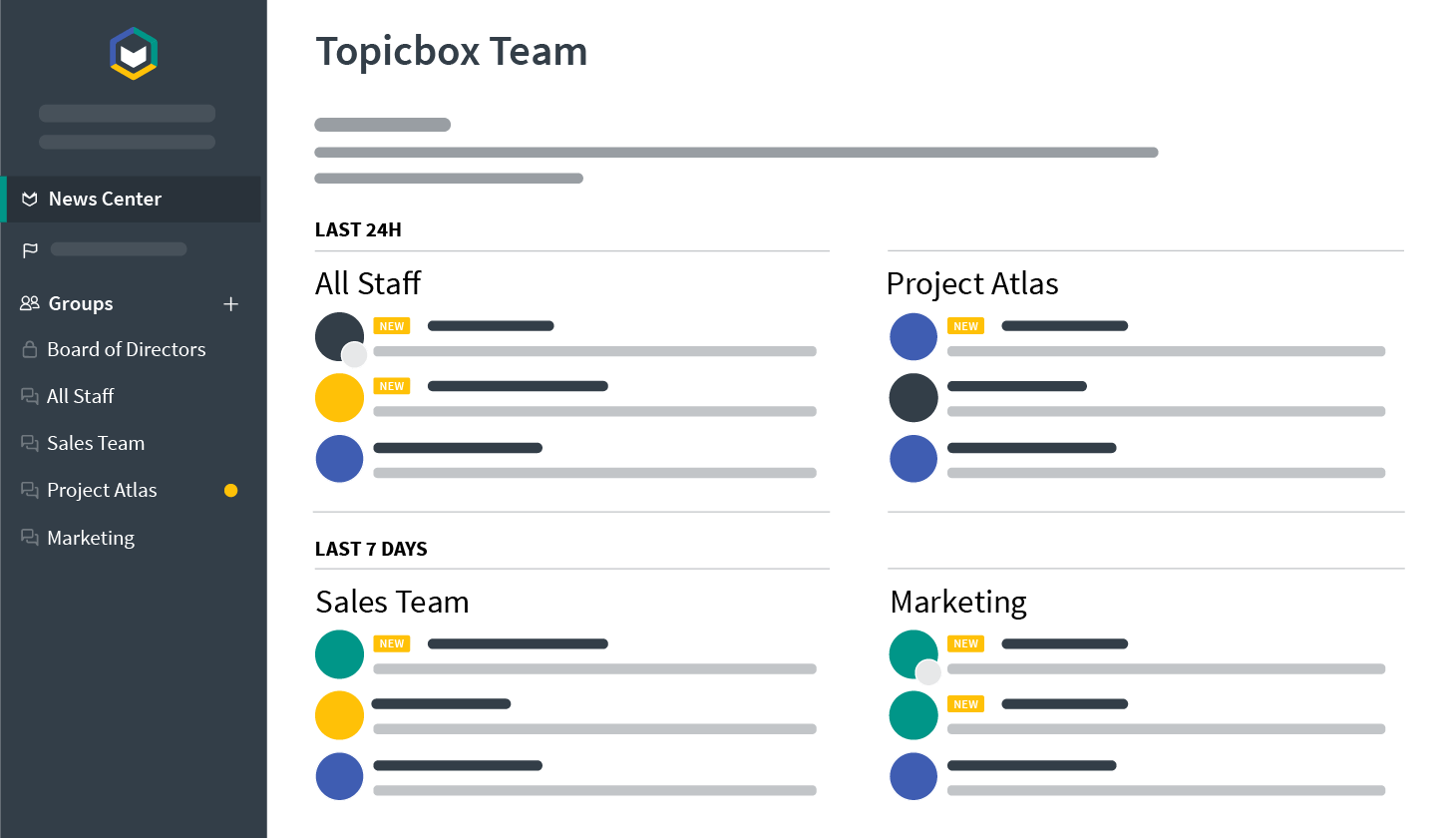 With Topicbox, any email sent to the group Topicbox address becomes part of that group's shared archive. It's really difficult to find what you need in Slack, but here the full archive is in front of you in the News Center, where you can see what your groups are talking about at-a-glance.
Specific information in Topicbox in easy to find with a powerful search that returns better results than your searching your email (unless you are using FastMail!). It's a game-changer.
See the difference for your yourself
While Slack helps keep your chats together, Topicbox makes the substantive work in email useful to teams. However you work, Topicbox will help you get more out of the time your team spends on email. Sign up for a free 30-day trial of Topicbox and watch your team shine.
---