Topicbox enhancements coming your way!
We've been working hard behind the scenes, testing and making improvements for new features. The first set has just landed. Let's introduce some of the changes that we hope will improve your Topicbox experience.
---
Pin Messages
One of our most frequently requested features is message pinning. It's here! Group admins can pin a message from the message action menu at the top right of the message display.

Pinned messages are shown at the top of your group's message listing, and you can pin as many messages as you need.
In the message action menu, you'll also find options to see the raw text of the message and copy the message's unique URL to your clipboard.
Composer formatting menu
The formatting menu is now always visible and we've also added support for code blocks.
Our message composer always included formatting options, but they only displayed when you selected text. Tip: To quote from a message that's already in the topic, select the text you want to quote.

Retiring groups
Groups that are no longer active can be retired from being visible in your News Center and navigation. A group administrator can retire a group. Great for projects that are finished but you still might need to look up.
Messages in retired groups are still available for reference. Access your retired groups from your groups screen or in organization-wide search.

Better member administration
We've made a series of options to make it easier for owners and administrators to help their group members. For organization owners, you're able to see the same set of tools, whether you access the member from your global Users list, or from a group. There, you can:
add and remove group access
change delivery options
give members administrative privileges
add alternate addresses for members with more than one email address
and more!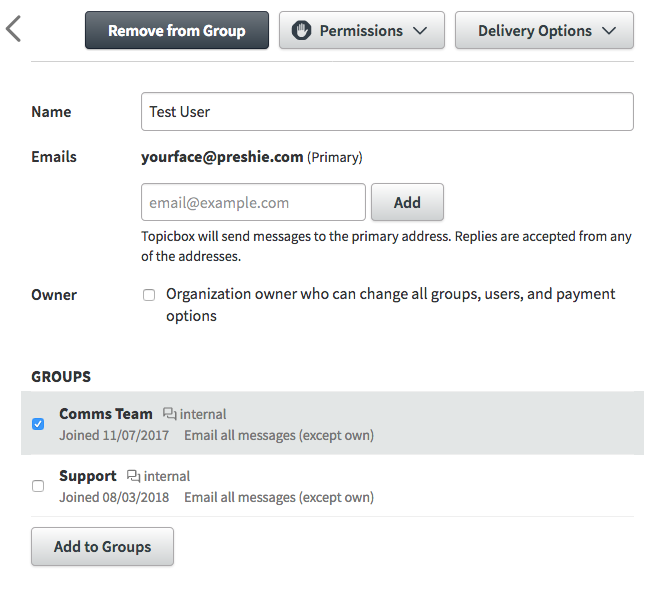 For group admins, member settings like delivery options are now visible. You can now edit the full range of member permissions and delivery options.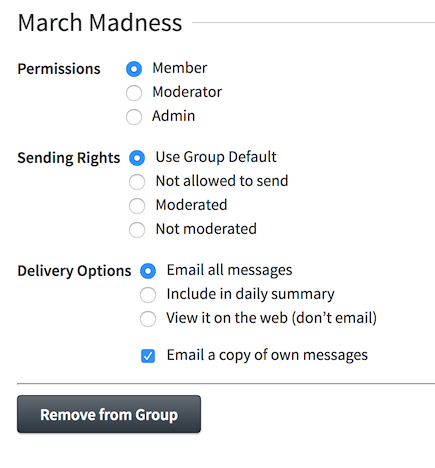 Get the most from Topicbox with teams.
Organization owners can go to Organization Settings, and designate any group as "Your Team". Unlock the power of Topicbox to put your organization's information in a central, searchable home!
Once you've set up your team, you can change a group to:
be visible to any team member
be joinable by any member
accept messages from any team member, even if they aren't in the group
You can also give team members the power to create their own groups.
Tell us what you think!
We love customer feedback. Let us know what you think, and how we can help make Topicbox even better for you, by contacting support@topicbox.com.
---